Unsere Marken
Lizenzmarken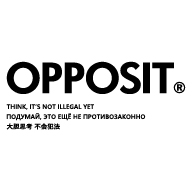 www.opposit.it
Opposit is the symbol of freedom, it is the icon of independence, the frame for those not afraid of being looked bad.
Opposit embraces both worlds by using as its logo the symbol of male and female. Opposit becomes the accessory for those who want to communicate to others, without words and without explanation, their freedom orientation to be F ***** g cool!
Opposit is for people with a free spirit, young (in or outside), cool, modern and metropolitan; it's for those people who want to be free world citizens. The Opposit Eyewear Collection icludes a mix of crazy, trendy and also easy to wear styles. With a wide range of colors Opposit is the symbol of freedom.