Unsere Marken
Lizenzmarken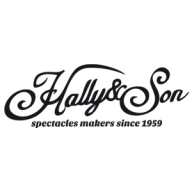 www.hally-son.com
"We dedicate our collection to all those craftsmen who lived the eyewear dream."
The brand history raised again in 2011 with the discovery of a mysterious box in our company archives.
The Hally & Son collection, born from a big dream in 1959, is relieving today its original values: a retro- classic style, timeless shapes, extremely precious materials and attention to details.
It's basis are high quality models, manufactured through the usage of different top materials like titanium, real horn and acetates. The Hally & Son collection represents the ultimate expression of versatility and timeless elegance that always distinguishes Hally & Son's creations. A brand designed for a contemporary classic consumer.